Enrober & Cooling Tunnel Machines




Enrober Machines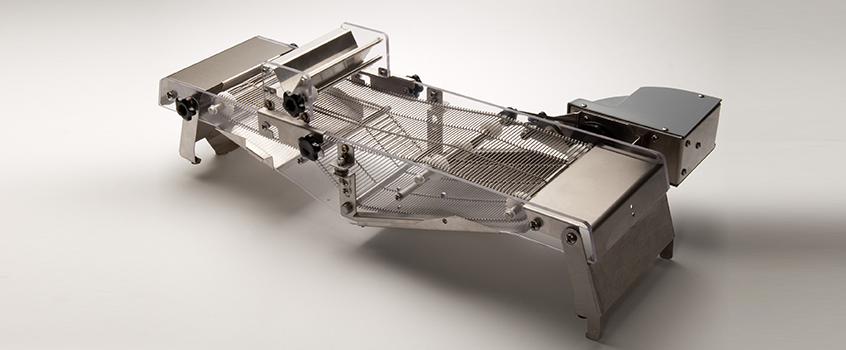 Description

The Enrober is an enrobing machine designed to fit on the Choco TT when installed on the optional cart with casters. It allows enrobing chocolate centers, ganaches, cookies, or whatever your heart desires, with chocolate. The products travel on a wire mesh belt and are enrobed by a double curtain waterfall system. The enrober machine coats top and bottom or top only. For bottom only, a bottomer is available on special request. The control box allows regulating the speed of the belts.

Faster than hand dipping and more consistent
Economic system
Speed control
Separate on/off switches for inlet and outlet belts as well as pump

Cooling Tunnel Machines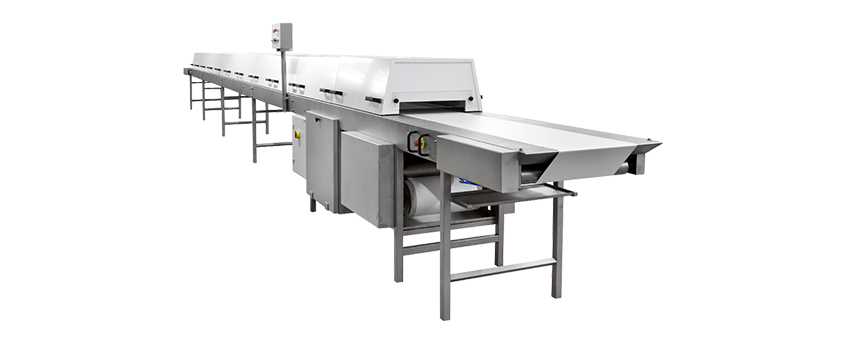 Description

Cooling tunnels have been known to be reliable and economical. Experience and know-how, combined with our latest scientific research, have resulted in the current cooling tunnel design to improve cooling efficiency and product quality. The cooling tunnels are of modular design and consist of individual 3 m long sections. The close-fitting PU covers give an airtight seal without any sealing material. Energy saving and insulation is an important part of the design principle, as are GMP-guidelines. Cooling tunnels are equipped with a new temperature control system, which adjusts the tunnel temperature according to the heat load. It always ensures optimum product gloss.

Cooling Tunnel Features
Insulated removable light weight canopy covers for easy access to conveyor system.
Easy access cooling compartment.
Steel Frame and Side Panels.
Adjustable height braking casters.
Insulated Cabinet.
Standard Control Panel.
Heavy Duty Canopy Handles.
Different Conveyor Widths.
Different Tunnel Lengths.
Customized for Different Products.
Extended Out Feed Conveyors.
Cooling Tunnel frame and side panels and are made of SS 304.
Canopies are made of SS reinforced with 60mm PUF insulation sandwiched in between and has a great insulating factor with low moisture conduction.
Cooling Tunnels are energy efficiant because they are totaly insulated.
Our Cooling Tunnels have a modular design so they can easily be moved from one location to another.
High Performance Convection Cooling gives our tunnels even cooling with low humidity depending on products used, this process delivers gentle cooling which is the best way to cool your product down without damage.
Our Cooling Tunnel Conveyors give your products a smooth ride with and adjustable speed. PUF materials are suitable for temperature range between -200°C to +110°C. PIR Slabs & Pipe Sections are suitable for use between -200°C to +145°C. It has low thermal conductivity value of maximum 0.021 w/mk at 10°C. It is not easily ignitable and has negligible water permeability. It is suitable for cold / chilled pipelines, building roof & wall insulation, equipment insulation and horton sphere insulation.